I got back from Afghanistan and went almost immediately to Indiana to help my Grandad break his yearling trotter. Pretty soon after we got started working with her, it was obvious I wasn't going to be able to photograph like I normally do, as I had my hands full working with this horse. So I made a couple pictures with my iphone. I thought maybe this would be the best way to photograph while we work with her, and I thought it might be cool to shoot for The New Yorker's Instagram feed while I did it. I got in touch with Whitney Johnson, the Director of Photography for The New Yorker, who had seen my work on my Grandad before, and she and editor Genevieve Fussell agreed it could be cool. Whitney suggested doing it in black and white, as the rest of my project from here is as well.
We started working with her the day after I arrived, and after a week, we did get her trotting hitched to the jog cart one day. I am not much of an instagram user, so it was a little new to me. But also gratifying- hundreds of people seemed to enjoy the story and followed along with it. It was fascinating to be communicating so instantly with so many people. Thanks to Whitney and Genevieve for the chance to reach so many folks from out here on the farm.
Moment, the yearling filly. She's a good looking horse, but also a handful. She's just a baby, and acts like it. It's kind of like trying to get an 8 year old to practice piano and go to gymnastics in their Sunday school outfit each day that you train her. At first she thinks "Great, ooooh, what's that, Ok, yeah put that on sure." Then after a couple of days she's like "Uh guys, that was cool for a minute but I am sick of this." And then she gets witchy.
Portrait of Grandad Taylor.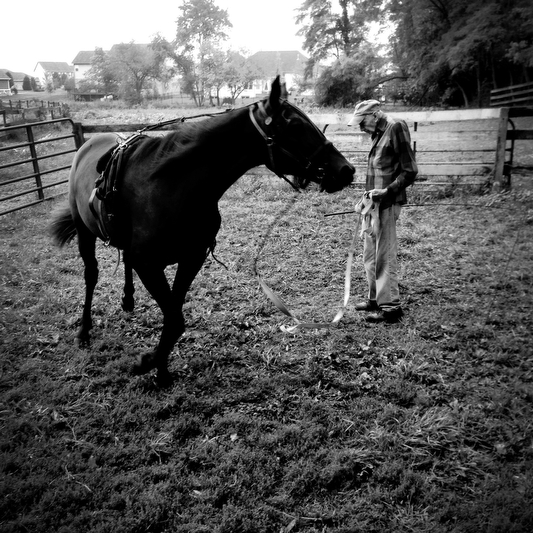 Lunging Moment on the long line.
Ellen, Grandad, and my cousin Jake's family watches Jake's horse JD's courage race at Hoosier Park.
A horse makes it into the winners circle.
Not long after this picture was taken, we finished hitching Moment and we started lunging her before we quit for the morning. She got mad and kicked Grandad pretty hard in the knee. It was scary, she connected with him solid and sent him flying. I got her in the barn, and came out to help him up. He's still recovering from it now, a month later. He should be Ok, but it meant the end of us breaking her. It was sad and tough for him I know, and tough for me too. I've kind of wondered since if this was the last time he'll ever sit behind a harness horse. I hope not.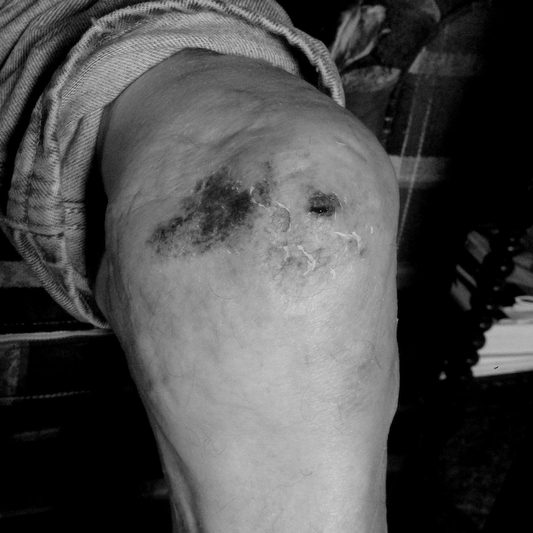 I worked with Moment a bit after the accident, but Grandad thought we should quit with her.
Grandad wrapping up the horse bandage he used on his knee.
Americana, one of the old brood mares on the farm.
Pinto beans, green beans, and cornbread dinner. Simple and to the point.
He reads Time, The New Yorker, The Week, and the Sunday Indianapolis Star every week.
When I stay on the farm, this is my life. Shoveling horse manure every damn day.
Moment, standing pretty after being cleaned up. I am pretty crushed out on her, but like any crush, she broke my heart when she kicked Grandad and ended her training with us. And like any crush, I'll still love her anyway.
"The outside of a horse is good for the inside of a man."